Intel Corporation pledges to emit zero emissions by 2040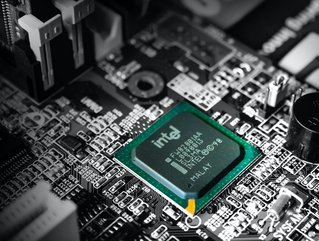 Tech juggernaut Intel aims to reduce the carbon footprint across its entire value chain and so catalyse emerging market action to combat climate change
Since mid-April, Intel Corporation has stated goals to further reduce its direct and indirect greenhouse gas emissions as well as develop environmentally friendly technology. Global operations will have net-zero greenhouse gas emissions in place by 2040, and Intel products and platforms will have specific goals for energy efficiency and lower carbon footprints.
Intel will also collaborate with customers in order to create solutions that reduce the greenhouse gas footprint of all technology.
"The impact of climate change is an urgent global threat," said Pat Gelsinger, Chief Executive Officer of Intel. "Protecting our planet demands immediate action and fresh thinking about how the world operates.
"As one of the world's leading semiconductor design and manufacturing companies, Intel is in a unique position to make a difference not only in our own operations, but in a way that makes it easier for customers, partners and our whole value chain to take meaningful action too."
Intel's global operations actions
Intel has established the following interim objectives for 2030 in order to accomplish several ambitious climate goals.
These include using 100% renewable electricity in all of its operations around the world, investing US$300mn on energy conservation at its sites, which should result in total energy savings of 4bn kilowatt-hours.
Intel also plans to construct new factories and facilities that fulfil the criteria of the LEED programme as regulated by the United States Green Building Council, including for the newly announced investments in the United States, Europe, and Asia.
It will also begin a cross-industry research and development project to seek greener chemicals with lower global warming potential and to develop innovative abatement equipment.
These milestones are helping Intel demonstrate its commitment to sustainable business practices, such as its corporate responsibility plan. Over the last decade, Intel's greenhouse gas emissions have been 75% lower compared to the absence of investments and action.
Intel will boost the energy efficiency of its products to meet market demands in order to support customer sustainability goals. Intel has set a new aim for its next-generation CPU-GPU, Falcon Shores, to achieve a five times gain in performance per watt. The firm remains dedicated to achieving its 2030 goal of a 10-time increase in the energy efficiency of client and server microprocessors.
Intel is expanding innovation in the following areas to assist customers in reducing platform carbon emissions:
All internal components were laid out, selected, and modularized in order to reduce the size of the mainboards.
Continued improvements in the system and display energy efficiency will result in a significant reduction in overall power consumption.
The usage of bio-based printed circuit boards to assist in the separation of recyclable materials and components and to reduce overall electronic waste.
"Intel has been a leader in sustainability results for decades," said Keyvan Esfarjani, executive vice president and chief global operations officer at Intel. "With leadership comes responsibility. We're now raising the bar and entering an exciting era to achieve net-zero greenhouse gas emissions across our operations by 2040."