Accenture's services to support business growth sustainably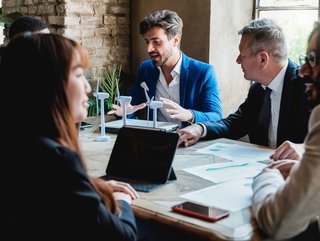 Credit: Getty Images | Accenture delivers sustainability services to support business growth strategies in line with ESG
To support companies in achieving SDGs, Accenture is encouraged by its clients progress towards sustainable business growth, according to Peter Lacy
The pressures of sustainability can be seen and heard across a number of industries as they emphasise their commitments to economic growth in line with environmental and social causes. With this comes a number of actions, including net-zero emissions reduction strategy—comprising measurement, reporting and analysis—stakeholder engagement, and social responsibility.
It's clear to see the overwhelming shifts happening in business, which organisations hope will lead to more sustainable practices with growth benefits down the line. But, sustainable transformation won't be achieved from their comfort zones and companies must be strategic about their approach to delivering on their goals.
Bringing a portfolio of technologies to the table, Accenture shares its expertise with a number of industries to nudge them closer towards their sustainability goals, making actionable strategy achievable no matter the sector they operate in.
"As we get closer to achieving the 2030 Sustainable Development Goals, I am extremely encouraged to see our clients and partners putting increased focus on sustainability, and am excited to help them set and achieve breakthrough sustainability goals," says Peter Lacy, Chief Responsibility Officer and Global Sustainability Services Lead at Accenture.
From sustainability strategy planning to technology and environmental, social and governance (ESG) measurement and reporting, Accenture has done a lot of the complex work to give businesses the tools to grow sustainably. Not only is the company committed to helping clients realise their impacts, but also showcase the economic benefits of their newly aligned strategies.
To learn more about this, Accenture shares a whole host of insights from the most recent COP events since the true breadth of impact was realised post-pandemic.
Sustainability services in action
Accenture's dedicated services continue to support a number of clients and their decarbonisation efforts, supporting various industries from construction to automotive to travel.
Accenture became a key growth partner of Volkswagen, which continually expands its electric vehicle (EV) range to take the mantle from its internal combustion vehicle (ICV) business. While the business recognised its progress in this space, communicating its progress was much more complex. In order to articulate its ESG strategy, Accenture provided VW with services to help shape its sustainability narrative—setting KPIs to benchmark its progress and adopting means of reporting and analysing its growth.
The company took VW through a three-phase process, which included generating an S-Ray score—a data-driven measure of ESG that is recognised by investors. Another phase sought to bring C-level executives on board to understand how Accenture could support them in understanding achievable sustainability goals. As the frontrunners of sustainability for the organisation, they were provided with critical insights to understand how decarbonisation and circularity impact business operations—and the role of staff.
For the full case study, check out Accenture's sustainability service page, which also provides further case studies to draw inspiration from.
*************************************************
For more insights into Sustainability - check out the latest edition of Sustainability Magazine and be sure to follow us on LinkedIn & Twitter
Other magazines that may be of interest - EV Magazine | Energy Digital
*********************************************
Net Zero LIVE will be hosted live from the QEII Centre, London on the 6th and 7th of March, and streamed globally via our virtual event platform Brella. Net Zero LIVE London will feature four LIVE themes, incorporating Sustainability LIVE, EV LIVE, Scope 3 LIVE, and Energy LIVE to deliver a holistic conference and exhibition experience with opportunities to connect with like-minded peers and actively contribute to crafting a sustainable future. Following Net Zero LIVE, viewers can also sign up for Sustainability LIVE Dubai and Singapore.
Sign up to the The Global Sustainability & ESG Awards 2024, coming to London on the 11th September 2024.
*********************************************
BizClik is a global provider of B2B digital media platforms that cover 'Executive Communities' for CEO's, CFO's, CMO's, Sustainability Leaders, Procurement & Supply Chain Leaders, Technology & AI Leaders, Cyber Leaders, FinTech & InsurTech Leaders as well as covering industries such as Manufacturing, Mining, Energy, EV, Construction, Healthcare + Food & Drink.
BizClik, based in London, Dubai & New York offers services such as Content Creation, Advertising & Sponsorship Solutions, Webinars & Events.