Coca-Cola innovates to further develop sustainable packaging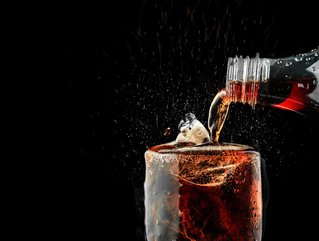 Jon Woods of Coca-Cola Great Britain explains the impact of the latest sustainable packaging developments to encourage consumers of plastics to recycle
The simple product developments should not be underestimated. Specifically in packaging, the slightest reduction in plastic use or the increased potential for recycling will reduce microplastics on a wider scale.

Coca-Cola is no stranger to sustainability with a strong commitment to reducing waste through circular packaging developments. The World Without Waste showcases the company's efforts to reuse plastics in road resurfacing. The firm is also promoting new campaigns to increase awareness of environmental causes.

The latest packaging initiative is a small change to its plastic Coca-Cola bottles, which is expected to make a big difference to how consumers recycle. The 'attached cap' initiative is the company's way of ensuring that caps are not removed from bottles.

"This great move from Coca‑Cola Great Britain supports the on-going work with the UK Plastics Pact in trying to ensure that as much plastic packaging is captured and recycled as possible," Adam Herriott, Sector Specialist at WRAP.

"In 2020 we saw the amount of plastic packaging being recycled increase from 44% to 52%. The small changes are what adds up to make a big difference and when it comes to recycling, the higher [the] quality of the material the better. We look forward to seeing more innovations in this area."
Creating ease of recycling in a circular economy
For many years, all of Coca-Cola's bottles have been 100% recyclable, but the biggest challenge was to ensure that consumers. With pressure on businesses to create circular products and packaging, the UK Resources and Waste Minister, Jo Churchill recognises the input that is required from large corporations.

"More businesses are finding innovative ways to tackle harmful plastic pollution and Coca‑Cola's new design will make it easier for people to recycle and help reduce litter," says Churchill.

She also comments on how the government is interacting with such initiatives to ensure sustainable success.

"The Government is committed to boosting recycling across the country with our new Environment Act creating a deposit return scheme for drinks containers, making manufacturers more responsible for their packaging, and putting in place consistent recycling collections."
Coca-Cola strives for global change
The change to its bottle design will take immediate effect and consumers will begin to see more 1.5L bottles of Fanta, Coca-Cola Zero, and Diet Coke on shelves with the initiative rolled out across its entire list of brands by early 2024.

While this is a small step for the organisation, Jon Woods, General Manager at Coca-Cola Great Britain, believes this is a minor change that will have a huge impact globally.

"This is a small change that we hope will have a big impact, ensuring that when consumers recycle our bottles, no cap gets left behind," says Woods.

"It's one of many steps we're taking towards our global commitment to help collect and recycle a bottle or can for every one that we sell by 2025, on our journey towards a World Without Waste."

"As the world's biggest drinks company, we recognise that we have a leading role to play in pushing innovation and design to produce more high-quality recycled plastic which can be converted into new bottles."