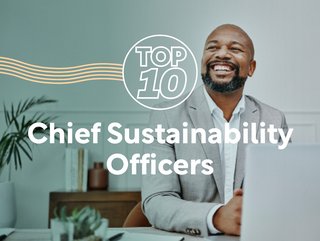 Top 10 Chief Sustainability Officers
Our Top 10 Chief Sustainability Officers lead ESG and net-zero strategy at companies including Deloitte, Microsoft, Unilever, Blackrock, Siemens and EY
As ESG goals continue to be prioritised by the top global companies, the leaders in place are developing intelligent environmental strategy, developing new partnerships and technologies to accelerate the journey to net zero and engaging in the global effort to reach the goals of the Paris Agreement.
A recent survey conducted by Deloitte reports that more than 2,000 CxOs across 24 countries find that the majority of CxOs remain optimistic the world will take sufficient steps to avoid the worst impacts of climate change and feel a sense of urgency to take action.
When asked to rank the issues most pressing to their organisations, many CxOs rated climate change as a "top three issue," ahead of seven others, including innovation, competition for talent, and supply chain challenges. In fact, only economic outlook ranked slightly higher. Many CxOs (61%) said climate change will have a high/very high impact on their organization's strategy and operations over the next three years.
With 75% of leaders stating that their organisations have increased their sustainability investments over the past year, we can see that the Chief Sustainability Officers at the helm today are dictating not just environmental but also wider company strategy that will be in place for years to come.

Senior Vice President and Chief Sustainability Officer, Ecolab

Ecolab is the global leader in water, food safety and public health technologies and services, and Emilio Tenuta has held multiple positions over his nearly four decade tenure.
He now leads its global sustainability programs and strategies as Chief Sustainability Officer, including the development of unique diagnostic and planning tools for broad industry use, such as the Water Risk Monetizer and Smart Water Navigator.
Tenuta received his bachelor's degree in Chemistry and Business from the University of Wisconsin – Eau Claire and earned his MBA from the Kellogg School of Management at Northwestern University. He serves on the boards of the Council of Great Lakes Industries, the World Environment Center and Corporate Eco Forum, and chairs the sustainability council of The Conference Board.

Chief Sustainability Officer, Bain & Company

Based in San Francisco, US, Sam Israelit leads Bain & Company's global Environment Practice, where he works with leading environmental organisations around the world on problems related to climate change, responsible production and consumption, and land and ocean conservation. He also leads internal sustainability efforts and manages the Carbon Neutral program.
As a partner at Bain & Company with more than 26 years of management consulting experience, he works with clients in the retail, consumer products, and technology industries to help them transform their operations and achieve their performance goals.
He joined the firm in 2000 to help Bain expand its capabilities in information technology and was co-founder of its IT practice. He also led Bain's Supply Chain Practice in the Americas and is active in Bains Retail and Merger Integration Practices.

Senior Partner and Managing Director of North American Systems, Chief Sustainability Officer, Boston Consulting Group

Alongside his role as Boston Consulting Group's Global Chief Sustainability Officer, David Webb is the Managing Director of North American Systems and member of BCG's operating committee.
David's work at BCG has focused on large-scale transformations, primarily in collaboration with consumer goods manufacturers, distributors, retailers, and service providers. He has considerable expertise in the beverage alcohol sector, having worked with several of the leading companies in the industry.
David is an expert in organisational design, performance improvement, and business model redesign and strategy. He is also deeply involved in climate efforts, including measurement, reductions, and the emerging removals space. Prior to joining the firm, David worked at GE Power Systems and GE Lighting, including positions in Hungary, Italy, and several locations in North America.

Chief Sustainability Officer and Global Head of ESG, Cognizant

As the Chief Sustainability Officer and Global Head of ESG for Cognizant, Sophia Leonora Mendelsohn is applying ESG solutions to tech and systemic thinking, driving profit with executable ESG strategies and creating and executing business models for a resource-constrained world.
Over the course of her career, Mendelsohn has been recognised for her leadership and commitment to corporate citizenship. In 2016, she won the US Environmental Protection Agency's Climate Leadership Award and was named Climate Leader of the Year by Ethical Corporation. In 2020, she was named one of the top 30 people leading the climate charge by Bloomberg.
Mendelsohn speaks Mandarin Chinese, serves on boards and advisory councils and holds a master of science in sustainable management from Columbia University.

Chief Sustainability Officer, EY Americas

Velislava Ivanova leads EY's sustainability initiatives as Chief Sustainability Officer, having joined the company in 2015 as Principal, EY Americas Leader Climate Change and Sustainability Services.
With over 25 years of experience in implementing sustainability strategies across energy, manufacturing, retail, consumer goods and pharmaceuticals, Ivanova is committed to inclusivity and innovative ESG solutions. Pairing this with her understanding of three languages — Bulgarian, English and French — she is able to foster a collaborative environment to develop diverse talent alongside ESG solutions.
At EY, Ivanova supports the transition to a low-carbon and circular economy. She leads EY clients in shaping their ESG strategies to address their industry-specific and geographical issues and the needs of their internal and external stakeholders, positively transforming the long-term value strategies of businesses based in the USA, Canada, Bulgaria, the UK, Russia, Ukraine, Slovakia, Romania and Belgium.

Chief People and Sustainability Officer, Siemens
As Chief People and Sustainability Officer, Judith Wiese wants to drive an inclusive and empowering culture at Siemens, paving the way for continuous transformation and fostering an environment that is supportive, inclusive and conducive to learning.
Wiese is passionate about sustainability and believes that it is truly good for business. She is determined to accelerate Siemens' sustainability ambition to help solve the world's biggest challenges and contribute to the UN's Sustainable Development Goals through its products, solutions, responsible business practices, strategic partnerships and targeted community activities.
"Give me a problem and I'll get excited about finding solutions for it," says Wiese.
"I think, therefore, that I've never in my life felt powerless. I've always found an angle for thinking where I can create impact, and where I can use my capabilities to create progress."
Wiese studied at the Universities of Rotterdam, Muenster and Disburg/Essen where she earnt her Masters of Business Administration (MBA), Business Administration, majoring in Human Resources.

Chief Sustainability and Social Impact Officer, Managing Director of BlackRock Foundation, BlackRock

Nate Hurst is Chief Sustainability and Social Impact Officer at the world's largest asset manager, BlackRock. Here, he is overseeing the integration of sustainability goals into BlackRock operations, disclosures and reporting, as well as overseeing the social impact team, leading the BlackRock Foundation. This aligns with Hurst's talent in aligning philanthropy with business strengths, improving reputation and driving goals that ensure purpose-driven, shareholder value.
"The 'E' and 'S' of ESG are two sides of the same coin," Hurst believes.
"We can't talk about climate change and the energy transition without recognising their impacts on people and communities. That's why I'm excited to have expert minds across sustainability and social impact sitting around the same table and tackling these complex issues together. Working at a place and with people that rally around the same call to action makes it easy to walk in lockstep towards its reality."
Hurst has more than 20 years of experience working in Fortune 50 companies and at top levels of government, including as Director of Sustainability, Public Affairs, and Government Relations at Walmart, Chief Sustainability & Social Impact Officer at HP and Head of Social Impact and Sustainability; President of Wells Fargo Foundation at Wells Fargo.
He builds and leads diverse teams and strategies to improve lives, drive equity and ensure inclusion, protecting the planet, growing the economy and engaging people to take action.

Chief Sustainability Officer, Unilever
As Chief Sustainability Officer, a role she has held since 2019, Rebecca Marmot is responsible for driving transformational change on priority areas of Unilever's Sustainable Living Plan through advocacy and partnerships.
Under her leadership, Unilever played a role in major sustainability milestones such as the 2015 Paris Agreement and the creation of the 17 UN Sustainable Development Goals – otherwise known as the Global Goals – positioning Unilever at the forefront of sustainable business.
Success in ESG relies on everyone being on board, from employees to c-suite to investors. For example, we put our Climate Transition Action Plan – which outlines how we propose to reach our net zero target – to an advisory shareholder vote. Over 99% approved it. Making it public increases our credibility, transparency and accountability and helps us engage with stakeholders," shares Marmot.
"We also recognise that we can't do this on our own. We need to draw on the ingenuity and experience of experts and peers across the globe to meet our sustainability targets – from specialists creating plastic alternatives to suppliers supporting initiatives to protect and regenerate nature. We know that pioneering new practices requires partnership. We are also calling on governments to accelerate climate action by setting ambitious national renewable energy targets so that consumers can use our products at home with water heated by clean energy."
Chief Sustainability Officer, Microsoft UK
Holding the position of Chief Sustainability Officer for Microsoft, Musidora Jorgensen leads sustainability for the company in the UK, and is accountable for driving sustainability outcomes for the company's customers, partners and internally. The leader holds the belief that business can be a force for good in the world, and that the key to our collective success is unlocking and supporting the full potential in others.
"Sustainability is not just the right thing to do, it's also good for business," says Jorgensen.
"Consumers are now demanding this, and it's something that all businesses are focused on. For those organisations who can get ahead of it and get it right, there is a huge amount of opportunity and potential."
Jorgensen has spoken on gender diversity as a keynote speaker at the Women in Sales Conference, at the PwC Women's Network, and at the House of Commons as part of the Gamechangers Women's Network. She also volunteers as a mentor to final year STEM students at the University of Greenwich.
In 2018, Jorgensen was honoured to win the Best Sales Mentor at the European Women In Sales Awards and was included amongst the 2020 Yahoo Finance HERoes top 100 Female Future Leaders, as well as one of the 50 Leading Lights for UK Kindness & Leadership 2020.
Global Chief Sustainability Officer, Deloitte
Kathryn Alsegaf's journey into professional sustainability began when she submitted an idea to an innovation competition suggesting that Deloitte — a leading global provider of audit and assurance, consulting, financial advisory, risk advisory, tax, and related services — should audit carbon emissions reporting. That was over a decade ago, and she has since been leading innovating sustainability for the firm, championing sustainable performance reporting and transparency while enhancing sustainability performance by utilising science, innovation, and passion.
Alsegaf drives adoption of sustainability programs, policies, and initiatives across the Deloitte network, overseeing and advancing the company's WorldClimate strategy and overall environmental objectives. She is responsible for the global professional services network's greenhouse gas inventory, development and tracking of carbon reduction goals, and for external reporting on sustainability. She works closely with Deloitte firms and enables areas to promote greater environmental responsibility, engaging all 330,000 Deloitte professionals in environmental action
She was a founding member of the firm's Sustainability Integrated Market Offering and a member of the Capital Projects Consulting Group, where she provided litigation support on construction claims for projects that were located both in the United States and overseas.
Before joining Deloitte, she worked at Duke Energy Company, where she was involved in the development of power plants, environmental permitting, and corporate strategic planning.
*************************************************
For more insights into Sustainability - check out the latest edition of Sustainability Magazine and be sure to follow us on LinkedIn & Twitter
Other magazines that may be of interest - EV Magazine | Energy Digital
Please also check out our upcoming event - Sustainability LIVE in London at the BDC on Sept 6/7th 2023
*********************************************
BizClik is a global provider of B2B digital media platforms that cover 'Executive Communities' for CEO's, CFO's, CMO's, Sustainability Leaders, Procurement & Supply Chain Leaders, Technology & AI Leaders, Cyber Leaders, FinTech & InsurTech Leaders as well as covering industries such as Manufacturing, Mining, Energy, EV, Construction, Healthcare + Food & Drink.
BizClik, based in London, Dubai & New York offers services such as Content Creation, Advertising & Sponsorship Solutions, Webinars & Events.