Why is BHP's Project Crucial for Sustainable Agriculture?
With comments from Mike Henry, we take a look at the importance of potash and how BHP will become a crucial player in sustainable agriculture
With the global population expected to reach 10 billion in 2050, and the food demand to increase by 50%, the manufacture of potash will be crucial to ensure a sustainable crop yield that can cope with the rising demand. But what is potash? Why is it critical for sustainability? And why is BHP involved in producing it? 
Potash: a Key Component of Sustainability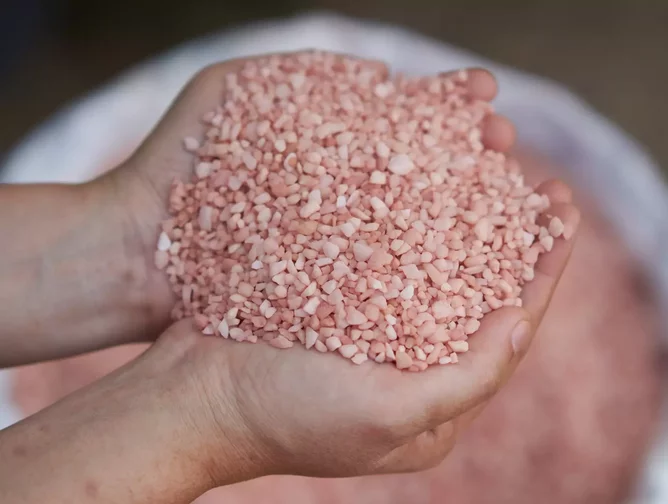 Potash is a critical resource for food production. The term 'potash' means potassium-rich salt, which is an essential element for plants—along with nitrogen and phosphorus, animals and humans. When soil is deficient in potassium, fertilisers that contain potash are used to improve soil quality with the aim of producing better quality, high-yield crops. Without the necessary levels of potassium in the soil, plants are less resilient to diseases, an influx of pests, and harsh growing conditions, such as drought.
Why is Potash Critical for Sustainability? 
While the population is increasing, the amount of cultivated land is not. Some say that land is one of the most precious assets. Food growers must be able to produce a higher yield of food from a limited supply of farmland, and potash is an enabler of that yield. 
BHP to Implement Mass Production of Potash
This is where BHP comes in. The company holds potash exploration permits and mining leases for approximately 9,600 square kilometres of the Saskatchewan province, Canada, and its Jansen Project is situated around 140km east of Saskatoon. The aim of the project is to build a production facility for future-facing commodities. 
'This is an important milestone for BHP and an investment in a new commodity that we believe will create value for shareholders for generations', says Mike Henry, Chief Executive Officer at BHP. 'Jansen is located in the world's best potash basin and is expected to operate [for] up to 100 years. Potash provides BHP with increased leverage to key global mega-trends, including rising population, changing diets, decarbonisation and improving environmental stewardship'. 
Kickstart the Jansen Project
The company has recently approved US$5.7bn of capital to be allocated to the first stage of the Jansen Project, a project that is expected to produce a quantity of around 4.35 million tonnes of potash per year. First operations are expected to begin in 2027 with the potential to explore further expansion of the project in the future. BHP believes the launch date for the project is somewhat aligned with the depletion of potash resources, meaning it couldn't come at a more crucial time.  
'In addition to its merits as a stand-alone project, Jansen also brings with it a series of high-returning growth options in an attractive investment jurisdiction. In developing the Jansen project, BHP has had ongoing positive engagement and collaboration with First Nations and local communities, and with the provincial and federal governments'. 
'Jansen is designed with a focus on sustainability, including being designed for low GHG emissions and low water consumption', says Henry.
As consumption habits are expected to change a lot over the next ten years— like conversion to varied diets and high-calorie consumption, the implementation of the Jansen Project could not come at a more critical point. The agricultural sector remains highly dependent on potassium-rich fertilisers—at around 55 megatonnes per year—and BHP's project will provide reassurance and contribute to a sustainability increase in crop production.


For more sustainability insights, check out the latest issue of Sustainability Magazine.