EY shares consumer sustainability and climate sentiments
EY compiles data showing changes in consumer behaviour as a result of climate change
Reported by Kristina Rogers from EY, the data suggests that consumers are growing more conscious of sustainability and climate change when purchasing
If you're wondering whether consumers are truly concerned about climate change and purchasing products that are less impactful to the environment, the answer is Yes—according to EY.
Research from the management consulting firm shows the trends in consumer behaviour, which could inform the choices of companies in the consumer goods industry. Both awareness of climate change and the immediate impacts of packaging—recycling and circular products—are up and coming trends that made their way into a number product businesses.
"The Index shows the extent to which consumers are feeling the impact of a changing climate in their daily lives," says Kristina Rogers, Global Consumer Leader at EY. "The increasing frequency of high temperatures, fires, droughts, floods and strong winds are affecting their homes and livelihoods, their access to water, the food they normally buy, the cost of everyday items, and their plans for the future. Many people are actively thinking about changing how they live and consume."
Not only are consumers conscious of the changes they can make to reduce their environmental impacts, they are making concrete decisions. The most significant being the types of foods they eat—which is generally a choice made based on the cost and availability of products.
Of all the respondents, 18% have even moved to a new place of residence to account for the needs of climate change, and 15% even purchased 'survival kits'. It's safe to say that the climate problem is growing in the eyes of consumers and it's more of a doom and gloom scenario than expected on the corporate level.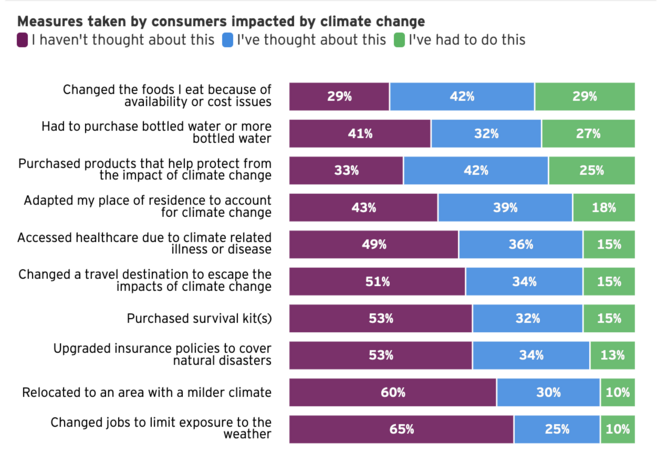 Credit: EY | Measures taken by consumers impacted by climate change
EY highlights a growing awareness of climate change
Further data that covers the years 2021 to 2023 assesses social media activity across X (formerly Twitter), which shows a spike in climate-related posts in the summer without fail. While this isn't a piece of data on purchases, it highlights the level of awareness generally as social media users are also consumers.
From a marketing perspective, this could raise the profile of sustainability related posts and announcements during the summer months when consumers feel the heat and therefore empathise with global warming.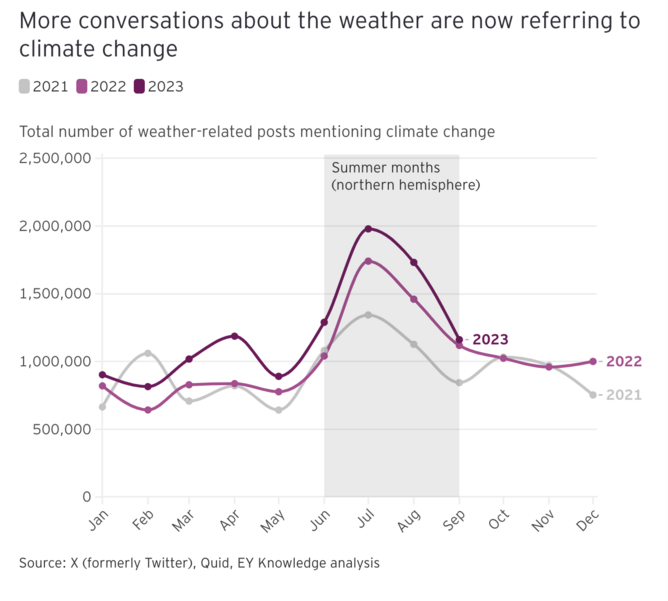 Credit: EY | Conversations on X (formerly Twitter) regarding the weather with climate change references
The data shared by EY also pinpoints some of the key areas to address either on a global scale or based on specific regions: Europe, Middle East and Afrcia, Asia-Pacific, and the Americas.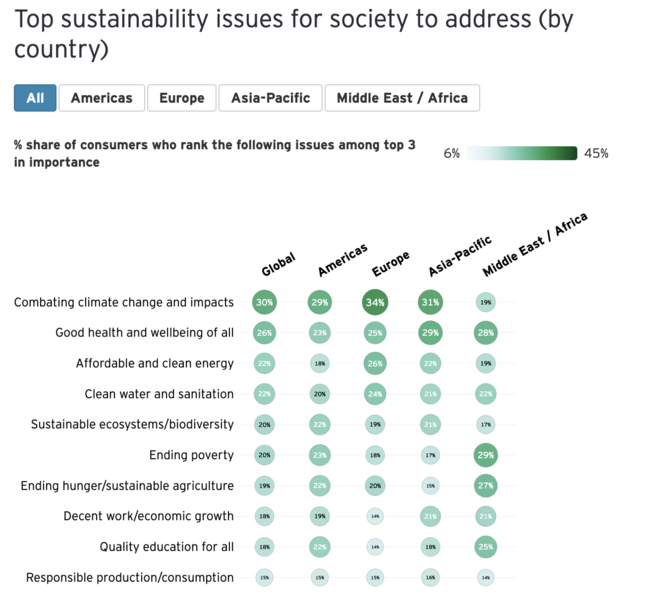 Credit: EY | Top sustainability issues for society to address (globally and by region)
Further the full index, click here, and read input from EY on the trends shown as a result of this data.
*************************************************
For more insights into Sustainability - check out the latest edition of Sustainability Magazine and be sure to follow us on LinkedIn & Twitter
Other magazines that may be of interest - EV Magazine | Energy Digital
*********************************************
Net Zero LIVE will be hosted live from the QEII Centre, London on the 6th and 7th of March, and streamed globally via our virtual event platform Brella. Net Zero LIVE London will feature four LIVE themes, incorporating Sustainability LIVE, EV LIVE, Scope 3 LIVE, and Energy LIVE to deliver a holistic conference and exhibition experience with opportunities to connect with like-minded peers and actively contribute to crafting a sustainable future. Following Net Zero LIVE, viewers can also sign up for Sustainability LIVE Dubai and Singapore.
Sign up to the The Global Sustainability & ESG Awards 2024, coming to London on the 11th September 2024.
*********************************************
BizClik is a global provider of B2B digital media platforms that cover 'Executive Communities' for CEO's, CFO's, CMO's, Sustainability Leaders, Procurement & Supply Chain Leaders, Technology & AI Leaders, Cyber Leaders, FinTech & InsurTech Leaders as well as covering industries such as Manufacturing, Mining, Energy, EV, Construction, Healthcare + Food & Drink.
BizClik, based in London, Dubai & New York offers services such as Content Creation, Advertising & Sponsorship Solutions, Webinars & Events.