How is ABB contributing to a net-zero motoring industry?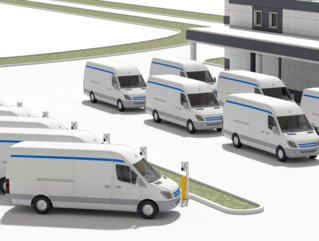 The technology and electrical innovation at ABB will pave the way for a net-zero motoring industry as it develops sustainable solutions for EV adoption
The next generation has spoken. As more consciousness arises around the importance of sustainability, children are not only hopeful for a clean environment but excited to see what the future holds, which will be largely affected by companies' abilities to meet net-zero requirements. From renewable energy to electric cars, younger generations will be those most affected by climate change and how businesses react.

As a 'driver of progress', ABB is determined to bring necessary changes to the way we use our roads and this involves electrifying all vehicles that provide us with personal transport, public transport, last-mile logistics, haulage, industrial applications, and even motorsports. ABB sees the important developments that must take place to provide the relevant infrastructure for an increasingly all-electric motoring industry.

What does net-zero look like?
To state the challenge is quite simple — eliminate all emissions. ABB has recognised the motoring industry as one of the critical areas to action, with transportation accounting for approximately 24% of global carbon emissions — of which, 75% are from road transport.
As such, the organisation is continuously developing ways to electrify homes for electric vehicle (EV) adoption. The infrastructure for EVs is one of its biggest challenges and one that ABB gladly accepts.
Firstly, it's important to note some of the variations in infrastructure as EV charging is required in all residential settings — at individual homes or apartments — as well as for commercial applications like public parking facilities, public transport, and charging stations for hauliers.
Electrification requires EV charging technology
ABB is on a mission to provide solutions for all applications. Coupling its electrical equipment with its technology capabilities, the multinational corporation aims to provide solutions for reliable public charging — which must rival the current fuel-powered vehicle infrastructure — and reduce barriers to EV access.

The company innovates and fabricates charging solutions as well as energy distribution units and battery energy storage facilities. The company has also provided a creative, interactive display of its solutions with its digital smart city. ABB has recognised the importance of all emissions scopes and the need to source renewable energy for its products, and the smart city concept shows how the firm wishes to implement its Mission to Zero strategy.
Beyond emissions is a circular economy
Previously mentioned at Sustainability Magazine, ABB works with Formula E to decarbonise motorsports, of which a circular economy plays a huge role. Adapting solutions for motorsports and creating a sustainable supply chain shows how businesses can rapidly adopt more sustainable design and sourcing initiatives to create a circular industry.


• Join global business leaders and sustainability experts taking meaningful action at Sustainability LIVE, held at Tobacco Dock, London, 23-24 February 2022. Register to attend today! Click here to learn more.