Top 10: Sustainable Energy White Papers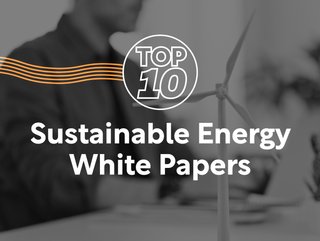 Sustainability Magazine's Top 10: Sustainability Energy White Papers
Sustainability Magazine analyses the Top 10 white paper reports sharing insights into global sustainable energy and current trends that shape the economy
Research is key to understanding the latest sustainability trends and the collective progress made to reduce climate temperature. In this list, we cover some of the leading white papers from energy bodies as well as other localised reports from key companies in the global economy. These help paint a picture of sustainable energy progress across the globe.

10. Microsoft: Accelerating the global transition to cleaner energy
The report published by Microsoft touches on the relationship between renewable energy and connectivity. The company, which is highlighted in the report, intends to work with energy firms that are committed to driving efficiency via digital means.
Specifically, the Microsoft white paper looks at sustainability through the lens of its Microsoft Azure and Power BI solutions to support ambitious across the Polish rail sector, PK P Energetyka, which utilise the software to gather data from dispersed energy sources.
9. Imperial College London: Net zero GB electricity
The Energy Futures Lab at Imperial College London is dedicated to fostering energy innovation and developing comprehensive solutions for a sustainable energy future. Drawing on the extensive knowledge of Imperial's energy experts, the Lab provides academically sound, unbiased, and timely evaluations of various energy technologies.
It also offers in-depth analyses of critical energy issues through its whitepapers and reports. In this particular whitepaper, the focus is on transforming the UK electricity system to achieve net-zero greenhouse gas (GHG) emissions. Utilising the insights from Imperial's IDLES program, the report presents a variety of cost-effective combinations of electricity generation and storage technologies. It also considers the necessary investments and infrastructure developments required for this transformation.
8. Amazon's Reaching Net-Zero Carbon by 2040
To fulfil its goal of achieving net-zero carbon emissions by 2040, Amazon is scrutinising the environmental impact across its entire business. This white paper examines the usage phase of electronic devices, which represents 10-15% of the total carbon footprint for devices with rechargeable batteries and 60-80% for devices that require plugging in.
Amazon's strategy for sustainability begins with improving energy efficiency. It then shifts focus to renewable energy sources, highlighting advancements in device technology and investments in wind and solar energy. By 2025, these efforts are expected to generate enough clean energy to offset the usage of all Echo, Fire TV, and Ring devices.
7. Tesla: Master Plan Part 3: Sustainable Energy For All Of Earth
In the "Sustainable Energy For All Of Earth" report, Tesla emphasises the crucial role of electric vehicles (EVs) in the global transition to sustainable energy.
The comprehensive 39-page document outlines a strategy for achieving a sustainable energy economy, focusing heavily on the electrification of end-use applications, primarily through EVs, and the development of sustainable electricity generation and storage solutions. Tesla's report delves into the financial implications of sustainable energy development and presents a detailed vision of a fully sustainable energy economy. It also includes comparative analyses, highlighting the economic advantages of clean energy, particularly through EVs as valuable renewable energy assets for businesses and consumers.
6. Shell: Benefits of investing in biofuel technology
Shell is committed to advancing a sustainable energy future, with a particular focus on the potential of biofuels and lower carbon fuels to substantially reduce the carbon footprint of transportation.
The Energy Transition Progress Report from Shell not only tracks emissions trends over the past five years but also highlights the company's increasing investments in biofuels worldwide. Ben van Beurden, former CEO and now Advisor to Shell's Board of Directors, emphasises the ongoing urgency of climate change. van Beurden asserts that society must continue to concentrate on long-term environmental challenges, calling for immediate and sustained action.
5. EY: Renewable Energy Country Attractiveness Index (RECAI)
EY's comprehensive report focuses on the rapid progression of green energy transformation. It highlights the surge in investments in wind and solar energy and emphasises the role of legislation in advancing sustainable energy.
The Renewable Energy Country Attractiveness Index (RECAI), now in its 62nd edition, offers insights into market conditions and regional developments. The report provides a global analysis, with particular attention to the solar PV market, especially noting the growth in investments in this sector.
4. Schneider Electric: Schneider Sustainability Impact 2021 - 25
Schneider Electric has a longstanding commitment to sustainability, which remains central to all of its endeavours in the energy space. In 2005, the company pioneered the use of an advanced sustainability barometer to gauge its impact on society, the environment, and the economy. Fast-forward 15 years later, green products now generate 75% of its overall revenue. Schneider Electric helped customers reduce carbon emissions by 120 megatons and expanded energy access to an additional 30 million people.
3. World Economic Forum (WEF)
In collaboration with Boston Consulting Group and SAP 'Accelerating Asia's Advantage: A Guide to Corporate Climate Action'
Climate change could have a disproportionate impact on Asian economies and people, according to the whitepaper by The World Economic Forum in collaboration with Boston Consulting Group (BCG) and SAP.
The paper analyses the critical role the region needs to play and examines the opportunities to be gained from taking immediate and bold climate action.
It reports that a revenue opportunity of US$4.3tn is available for Asian businesses by 2030 from activities like the expansion of renewable power, energy efficiency in buildings, and greater circularity in producing industries, making up a 43% share of the global total. Similarly, 58% of the jobs required to service those opportunities will be situated in Asia, creating as many as 232 million roles for the region.
2. International Energy Agency (IEA): Renewable Energy Market Update - June 2023
The report focuses on the latest data and analysis of renewable power capacity additions globally and in major markets for 2022, with forecasts extending through 2023 and 2024. It examines crucial topics for renewables, including the impact of the energy crisis on their deployment in the EU, their influence on energy affordability, and recent trends in the United States, China, and India.
The report also delves into developments in key technologies like solar, wind, and biofuels, covering aspects such as market dynamics, financing, energy security, manufacturing, and power system integration. This update represents the International Energy Agency's (IEA) most recent assessment of renewables markets since the December 2022 'Renewables 2022' report.
It includes forecasts for global renewable power capacity additions and biofuel demand for 2023 and 2024, highlighting uncertainties and policy implications that may influence future projections. This analysis contributes to the IEA's support for the first global stocktake of the Paris Agreement, in preparation for COP28. More reports in this series can be found on the IEA's Global Energy Transitions Stocktake page.
1. International Renewable Energy Agency (IRENA)
The International Renewable Energy Agency (IRENA) released 'Renewable Energy Statistics 2023', providing extensive datasets on global renewable energy capacity and usage. The report includes data on power-generation capacity from 2013-2022, actual power generation from 2013-2021, and renewable energy balances for over 150 countries for 2020-2021. The data is sourced from various means including IRENA questionnaires, national statistics, industry reports, and news articles. Key trends in the sector are summarised in the accompanying brief, 'Renewable Energy Highlights'.
The yearbook presents statistics on renewable energy investments, using data from 2012-2021 compiled from OECD-DAC and major financial institutions, expressed in millions of USD at 2020 prices. The report focuses on the maximum net generating capacity of renewable energy sources, with capacity detailed in megawatts (MW) and generation in gigawatt-hours (GWh). Notably, pumped storage is included in hydropower data but excluded from the total renewable energy calculations.
*************************************************
For more insights into Sustainability - check out the latest edition of Sustainability Magazine and be sure to follow us on LinkedIn & Twitter
Other magazines that may be of interest - EV Magazine | Energy Digital
*********************************************
Net Zero LIVE will be hosted live from the QEII Centre, London on the 6th and 7th of March, and streamed globally via our virtual event platform Brella. Net Zero LIVE London will feature four LIVE themes, incorporating Sustainability LIVE, EV LIVE, Scope 3 LIVE, and Energy LIVE to deliver a holistic conference and exhibition experience with opportunities to connect with like-minded peers and actively contribute to crafting a sustainable future. Following Net Zero LIVE, viewers can also sign up for Sustainability LIVE Dubai and Singapore.
Sign up to the The Global Sustainability & ESG Awards 2024, coming to London on the 11th September 2024.
*********************************************
BizClik is a global provider of B2B digital media platforms that cover 'Executive Communities' for CEO's, CFO's, CMO's, Sustainability Leaders, Procurement & Supply Chain Leaders, Technology & AI Leaders, Cyber Leaders, FinTech & InsurTech Leaders as well as covering industries such as Manufacturing, Mining, Energy, EV, Construction, Healthcare + Food & Drink.
BizClik, based in London, Dubai & New York offers services such as Content Creation, Advertising & Sponsorship Solutions, Webinars & Events.