Neste: Commercial airlines to adopt SAF and reduce emissions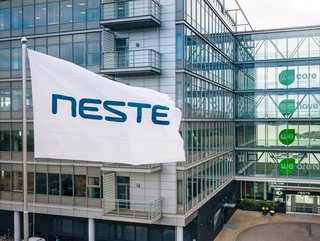 Neste and Victor have partnered to encourage commercial airlines to adopt SAF, Credit: Neste
Having been partners for one year, Neste and Victor call for commercial airlines to adopt SAF to reduce global emissions and to reach net zero targets
Neste, the world's largest supplier of Sustainable Aviation Fuel (SAF) and Victor, Europe's leading on-demand private jet company, is calling for commercial airlines to adopt SAF globally to reduce the aviation industry's carbon footprint.
As a known substitute for fossil fuels in aeroplanes, SAF has the potential to decrease greenhouse gas emissions by up to 80% compared to traditional fuel, according to Neste. Neste has dedicated approximately ten years to developing this sustainable alternative and manufactures its Neste MY Sustainable Aviation Fuel exclusively from 100% renewable waste and residue materials, such as waste animal fat and used cooking oil. The fuel contains an even mix of kerosene and SAF.
The two companies first started their partnership in June 2022, and have since reported great success, believing other airlines should consider replicating their working blueprint.
Since the partnership began, one in five of Victor's customers have bought an average £965 (US$1219) of Neste MY SAF for their private jet charter bookings, saving an average of 1.5 tonnes of CO2 per booking. This equals approximately 30% of fossil fuels being voluntarily replaced by SAF per booking, demonstrating a significant number of flyers are taking responsibility for their carbon emissions.
"Our results so far verify the potential of voluntary contributions – including much-needed cash flow – for SAF investment and growth, without being so reliant on government policy," Toby Edwards, Victor's co-CEO says. "Either way, flights are going to get much more expensive, and we should be leveraging the spending power of passengers and corporates booking business travel to scale up SAF."
Recognising the importance of voluntary contributions, Neste and Victor shares that the voluntary adoption of SAF is crucial to meet Net Zero objectives, particularly as it's projected that only the UK will use only 10% of SAF by 2030, and Europe only 6%. The businesses assert that the voluntary market has the potential to make an immediate impact.
Victor and Neste are now urging commercial airlines and airline ticket websites to replicate their model, advocating the use of SAF as an option during the check-out process for all bookings.
Commercial airlines to adopt SAF voluntary blueprint
Victor and Neste's 'Pay Here, Use There' is the only voluntary, direct-to-consumer blueprint currently available for all flight bookings.
The partnership's success highlights that consumers are committed to reducing their footprint, and are willing to pay more to do so.
Although certain commercial airlines are currently collaborating with SAF producers, there is a general lack of trust and transparency within existing industry schemes. Victor and Neste's 'Pay Here, Use There' blueprint presents a straightforward solution that has the potential to be adopted by the broader industry, harnessing the combined influence of the voluntary market.
"Why not adopt our 'Pay Here, Use There' blueprint across the commercial airline sector? Flyers want a solution that they can trust and which allows a credible reduction of their greenhouse gas emissions," Edwards says. "If airline passenger traffic more than doubles to 10 billion by 2050, as predicted, then we cannot afford to be so dependent on fossil fuels.
******
For more insights into Sustainability - check out the latest edition of Sustainability Magazine and be sure to follow us on LinkedIn & Twitter
Other magazines that may be of interest - EV Magazine | Energy Digital
Please also check out our upcoming event - Sustainability LIVE in London at the BDC on Sept 6/7th 2023
*******
BizClik is a global provider of B2B digital media platforms that cover 'Executive Communities' for CEO's, CFO's, CMO's, Sustainability Leaders, Procurement & Supply Chain Leaders, Technology & AI Leaders, Cyber Leaders, FinTech & InsurTech Leaders as well as covering industries such as Manufacturing, Mining, Energy, EV, Construction, Healthcare + Food & Drink.
BizClik, based in London, Dubai & New York offers services such as Content Creation, Advertising & Sponsorship Solutions, Webinars & Events.